WAITING FOR THE SHADOW

SOLAR AND LUNAR ECLIPSE OBSERVING - Joe Cali


Total lunar eclipse 28th July 2018


by Joe Cali

On July 28th, a total eclipse of the Moon will be visible from Australia. This article deals

specifically with eclipse circumstances in Canberra.

The shadow contacts of a lunar eclipse, start of partial and total eclipse are the same anywhere in the world that the Moon can be seen. Only the time zones need to be converted. Times in this article are given in EST, UT+10hrs. The altitude and azimuth, times of twilight, sunrise and moonset are specific to particular locations. The circumstances in Sydney will only differ by a few minutes from those presented in this diagram. Brisbane and Melbourne will be a bit more different.

International documentation will refer to this eclipse as occurring on the 27th July. All international documentation quotes date and time expressed as UT (universal time) or TD (Dynamical time). While the eclipse does occur on the 27th July Universal Time, in Australlia, the eclipse definitely occurs in the dawn hours of July 28th.

The partial eclipse takes place during the final hour of total darkness starting at 4:24am and ending at 5:30am. The total eclipse begins at the beginning of astronomical twilight*, continuing through nautical twilight and through civil twilight. For an explanation of the meanings of civil, nautical and astronomical twilight this website has an excellent explanation (http://aa.usno.navy.mil/faq/docs/RST_defs.php). I have coloured the diagram below with a representation of the colour and shade of the sky during these times. The total eclipse will be very distinct against a dark sky at the start of totality and is a beautiful sight through nautical twilight against a deep blue sky but will rapidly become quite difficult to see during Civil twilight and at the end of totality as the Sun is rising and the Moon setting. From Canberra this will be seen setting over the Brindabella Mountains and will be a beautiful sight. An eclipse of very similar circumstances was visible from Canberra on June 16, 2011. On that occasion, totality started 30 minutes later and finished 30 minutes after sunrise and moonset. Unfortunately I don't have any pictures to show, I was suffering a bad bout of pneumonia and only managed a peek through the window of a heated bedroom that morning. Nonetheless, it was a glorious sight.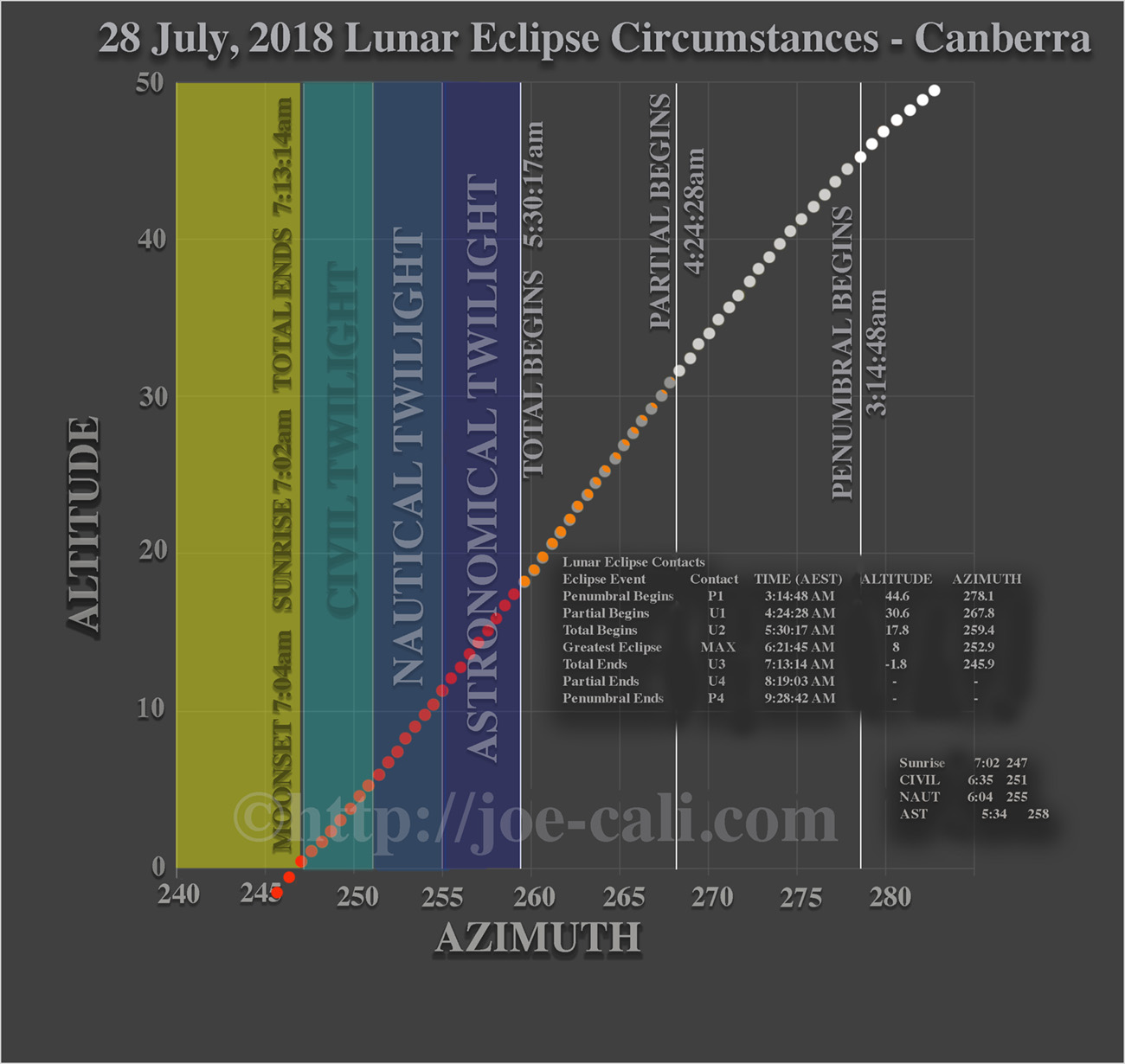 Click here for larger PDF (print resolution 1MB)


Information below is from Fred Espenak's Eclipsewise site http://eclipsewise.com/eclipse.html#preview