WAITING FOR THE SHADOW

---

SOLAR AND LUNAR ECLIPSE OBSERVING

HOME PAGE

Aurora Observing - Tromsø region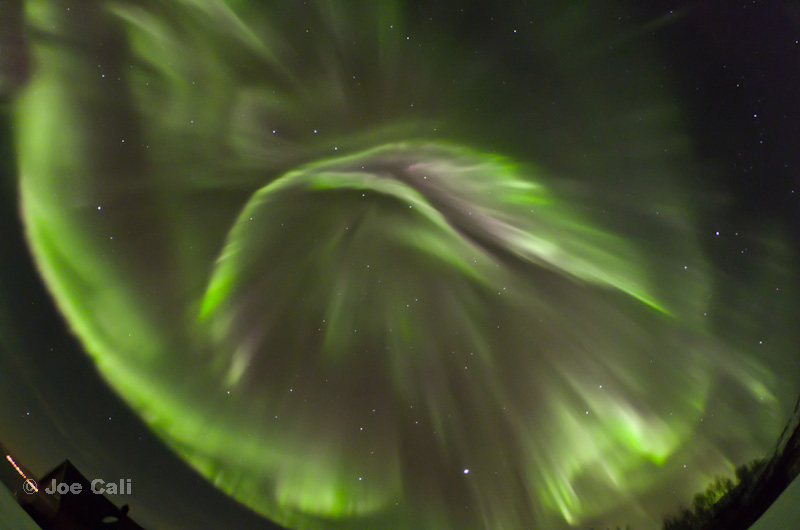 Pentax K5

ISO 6400, 10-17mm f3.5 fish-eye 10mm f3.5 (180 degrees corner to corner)

2s exposure


Aurora Borealis Observing


When I first became interested in astronomy as a teenager, I read everything I could find about all the different types of astronomical phenomenae, aurorae among them. They seemed fascinating yet out of reach being most visible at very high latitudes.

In early March 2015, I visited Tromsø for some bucket list aurora observing.

We attempted observing on 5 nights Mar 12-16. Two nights were clear and had visible aurora events. Two nights were cloudy the other partly clear but quiet with no aurora. In an area that experiences 90% cloud cover most of the year, we consider ourselves very fortunate.

The results are presented as flash slide shows. These shows have a lot of images in them. The best way to view these is to press the play button and leave the slide show playing in the background, walk away or do something else on the computer. Then after the show has played through once, all the images will be in your cache. Use the forward backward buttons and skip through the images quickly.

Mar 12th : Drove to the Finland border from Tromsø. There were occasional patches of clear sky through cloud and heavy snow falls but no aurora evens visible.


Mar 13th, 14th, 15th : We stayed at Yggdrasiltunet farm on Kvaløya. Great success on Saturday 14th. Cloudy other nights.



Mar 16th we drove from our hotel in Tromsø back to the farm at Kvaløya for the evening (at the owners kind invitation). That night turned out to be our second successful night. Lower intensity display than Mar 14th but with more colours.



Slide shows


Considering an aurora tour to Tromsø? Then read on below, otherwise you can

ret

urn to the 2015 total solar eclipse report




Notes for those planning Aurora observing tours to Tromsø


I a not an expert on Tromsø nor is this a comprehensive report. It is based on my limited experiences during a one week visit to the Tromsø area.

For those of us from middle latitudes, there are a couple of things we are not accustomed to, that we should keep in mind when planning any aurora observing at high latitudes.



Darkness


The Tromsø region is a few degrees north of the Arctic Circle. Therefore, it doesn't become "astronomical dark" (Sun>18o below the horizon) at any point during the night if the Sun's declination is greater than +3o (March 30-September 14). The number of night hours change rapidly throughout the colder months. See diagram. So the observing window for latitudes near the Arctic circle is not before early October through to early March.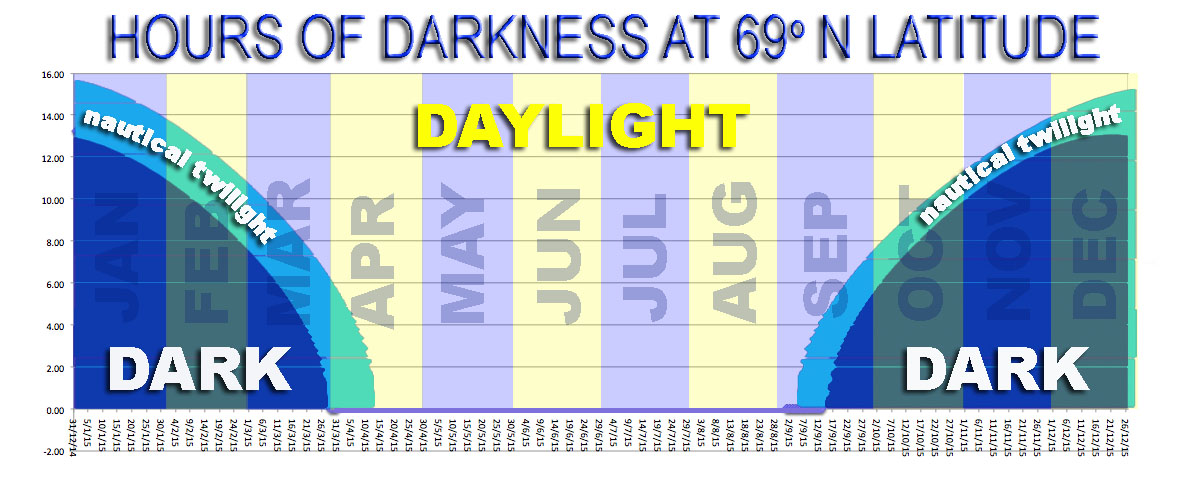 Graph showing the number of hours of darkness (time between astronomical twilights) throughout the year.
The data I generated for this plot was for 2015 but it will apply equally to any year. As you can see, hours
of dark reduces from 6hrs to nothing between March 11 and March 26 and increases from nothing to 6hrs
between September 14 and October 6. Plan any visits after mid-October and before early March.
New Moon
New Moon can last for 2 weeks! What's that you say? Have I gone mad? At those high latitudes, the southern ecliptic doesn't rise much. The last quarter moon is in the southern hemisphere during March and at such high latitudes only rises around the time of astronomical twilight. During October/November, first quarter Moon is in the south and likewise does not rise so you get most of the, admittedly short, night free of the Moon.

So for a October visit, plan your visit across New moon and first quarter, for a Feb,March try to visit last quarter to New Moon.
Costs around Tromsø
All of Norway is expensive compared to most countries in the world. With few exceptions, expect prices to be about double what you pay in Australia. Tromsø is certainly no exception.


Hotels are not double but perhaps 50% more than Australia. Car rental is more than double and taxi's cost 6-7 times more. Batteries on the other hand are cheaper. A take away meal like a pizza or burger will cost about AUD30.


Where to observe aurora?
From Tromsø
You can see very bright displays from Tromsø but there is a lot of light pollution and as with all things astronomical, it's much better to observe aurorae from dark skies.
Commercial Northern lights tours
One night aurora all inclusive tours ranged from AUD120 per person up to about AUD250 per night. These often included some sort of meal at an outdoor campfire + transport. You can also hire tripods from some tour companies for extra costs. I didn't take a tour. These company's travel long distances to the islands or to the Finland border in search of clear skies. The Finland border is only 150km from Tromsø so this is not as extreme as you might think. These companies have big fire pits near the border and take the tours their each night.


One night when I drove our rental car to the Finland border, many of the northern lights tour drivers I encountered were driving unsafely, even allowing for the snow tyres. I was driving the roads out near the Finish border in our rental car. On the way home, I was driving at the posted speed limit. During the return trip, three different tour vans were tailgating us at different points and then making unsafe and stupid overtaking moves. Hitting moose weighing 450-650kg or reindeer (100-300kg) is a common occurrence on those roads. My friend Geoff Sims hit one while we were both there. Had we hit one, the tour van tailgating us would have then crunched us from behind. For this reason alone, I cannot recommend these tours.
Self drive
Car hire is quite expensive compared to other countries I've traveled in as is fuel. We hired a Hyundai i20, fitted with metal studded snow tyres which make it handle almost like a normal car on the frequently icy roads. The i20 cost AUD700 for a 6 day hire. The car was very fuel efficient, just as well, fuel was AUD2.20 per litre. Weather services give you a good idea where to expect clear skies.
We drove out of Tromsø on 2 nights. The night we went to the Finnish border, we only got brief glimpses of clear sky and there were no Northern Lights that night, got back very tired the at 330am the next morning.
The other night, we drove to a neighbouring island Kvaløya and were rewarded with a moderate intensity display. Geoff Sims was there with Nelson Quan. They stayed in Tromsø and were prepared and did drive long distances, up to 5hrs, to clear skies each night they were there. They had more success in terms of the number of nights and number of auroral displays seen but Geoff told me all their time and energy went into the aurora chasing. They basically slept, ate, drove and observed and not much else.
Farm Stay
We stayed at "Yggdrasiltunet," a farm stay on Kvaløya, one of the many islands in the region. The weather on the islands, is admittedly not as good as inland however we were not there at the best time, our visit being governed by the solar eclipse the following week. Maria, the farms owner, told us that the best time for coming to stay, aurora wise was November-December when there were more clear nights and long hours of darkness.


We thought this farm stay was perfect for us. However this style won't suit everyone. The cheapest accommodation on the property are small cabins that have 2 small bedrooms, 8 sq m each with a double and a single bed and a narrow passage between. The beds are attached to the walls so you can store gear under the beds. Each room has numerous power outlets for recharging all the batteries you'll use.


These two rooms share a small bathroom with one toilet and one basin and an entry/drying room. The two rooms are rented separately NOK 800 (AUD140) ea per night so if you don't hire 2 rooms, you'll share the bathroom with strangers. The rooms are very small and you basically only sleep in them. Then you have access to a lovely communal house where there is a communal kitchen, bathroom with shower, toilet basin, and a large living & dining room with large glass windows looking out on the fjord. The guests are all very laid back and friendly and so the communal thing worked well. In addition to the small cabins, there is also a small apartment with kitchenette and if you have a bigger group there is a cottage for hire that sleeps 4 & 5.


You can bring groceries and cook for yourself or Maria can cook and provide meals for approximately NOK130-300 per meal. Most guests mix it up between self-catering and ordering meals. You just have to let her know 24 hrs in advance what you want. We ordered dinner one night and cooked for our selves the rest of the time. The meal, a reindeer stew with lingonberries was delicious.


It is possible to catch a public bus out to the farm but carrying groceries, clothes and equipment for a multi-day stay might be a bit of a handful. This however avoids the cost of having a renta-car sitting there costing money. If you do rent a car, there are some tourist drives around the islands you can take during the days.

Another possibility is that you could catch the bus to the farm with your luggage, have Maria cater for the first day, then catch the bus back to the supermarket to do a shop the next day. Allow about 40 mins each way to the supermarket 30km away.


Most people staying at the farm were there to see aurora so lights out around the farm at night wasn't really a problem. There are a lot of street lights in the village of Bakkejord, about 100m away on the road along the coast. The farm is located up on a hill 40-50m higher than the street lights. At the back of the property, this was not a problem. One night, a Russian fishing trawler traveling up the fjord, shone its huge spotlights on the shore and lit up the whole farm and the hills surrounding it. But this was an isolated incident, most nights were quite dark.


As far as I can tell, this property is unique in the region and I recommend this if you want a more relaxing experience. On the clear nights, we cooked and ate a leisurely meal, then relax or even nap until 9-10pm then walk outside the cabin to observe until astronomical twilight at 3am
retreating inside to warm up any time we felt cold,
then fall into bed. Contrast this to the nights we stayed in Tromsø and drove out of town. There was a rush to have dinner, hit the road for 1-2hrs, stay out in the cold by the side of the road only having the car as a warm then a similar long drive back at 3:00am.

If you want to extract every bit of clear sky from your stay, then stay in Tromsø and then drive out to clear sky every night. Yggdrasiltunet makes for a relaxing enjoyable stay balanced between observing and enjoyment of the beautiful surrounds.


The farm is called "Yggdrasiltunet" after Yggdrasil, the ash tree from Norse cosmology. It is located in the hamlet of Bakkejord on the island of Kvaløya about 50km SW of Tromsø. The host Maria is really lovely and I can recommend this place to anyone if the communal accommodation style suites your personal preferences.


A google search on "Yggdrasiltunet" will reveal links to booking engines.
Maria's email address is yggdrasiltunet@gmail.com
Yggdrasiltunet's english language website is http://www.yggdrasiltunet.no/news_144.html

Return to the 2015 total solar eclipse report
Joe Cali