Galapagos Adventure cont...

Our boat the "Antartida" was a compact wooden 55ft motor launch. There were five small but comfortable twin share cabins. The cabins are short on stowage space so you should travel light. The advantages of travelling in a small group more than makes up for the inconvenience.
You only need swimmers, a towel, shorts, jeans and a few tee shirts, camera gear and lots of film. I took about 18 rolls of film for the week. I expected to use ten. I used 15. Some people on the boat brought one or two rolls to last them the whole week and ran out by the second day. I also had two SLR bodies and a few lenses ranging from 18mm to 200mm. Juan, the nature guide was excellent. He worked as a park ranger in the Islands for fifteen years before becoming a guide and knew his subject back to front.
You land on the islands on dinghies called Pangas. Sea Lions and Marine Iguanas are on the shore to greet you with these incredible coloured crabs called Sally Lightfoot crabs. On the islands you can wonder within metres of the nests of Blue footed boobies, masked boobies, & Frigates. On other islands, you can get within 30-50 metres of nests of Waved Albatross and flocks of Pink Flamingos.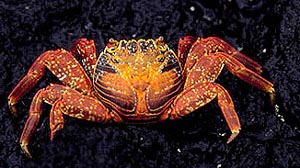 Plenty of time is allocated for the wildlife walks so you can set up tripods, & camera gear without fear of being left behind. Our last excursion to Kicker Rock (see picture) took place at sunrise on the same morning that we flew out of the Islands. The islands are four to eight hours apart and though you can do "day trips" to the islands from the two ports, you end up on the island in the middle of the day for a short stop between two long boat rides. The boats that have accommodation on board are the best way to see the islands.
Snorkelling, was a real treat - sea lions, penguins, green sea turtles sharks, rays .... the list goes on and on. Seeing a penguin at close range "flying" under water was the image that will stay with me a long time. Unfortunately I didn't have an underwater camera. They flap their wings and their speed is incredible. Sea lions even swim out to play from shore to play with you.
A week in the islands is very expensive but certainly should be on the shopping list of the nature and eco travel junkie.

Joe Cali