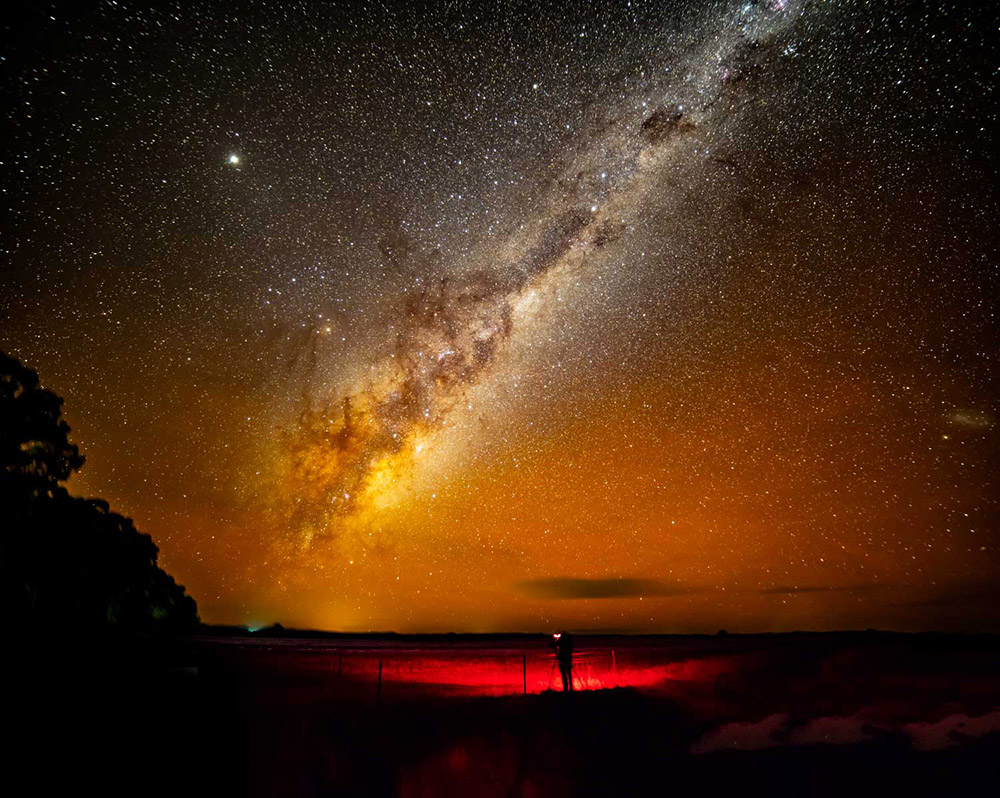 A Weekend Under
"Pinchgut Skies"

Friday May 22 4pm - Sunday May 24 2pm
Cost $565.00
Joe Cali Greg Bond

Spend a weekend shooting under spectacular dark skies with astrophotographers Joe Cali (Canberra) and Greg Bond (Brisbane) and joined by some of the Photoaccess staff. Both have more than 40 years of experience as astronomers and astrophotographers and have been best friends for most of that time. This two night residential course starts Friday afternoon and runs until Sunday lunch and includes food and accommodation in basic twin share shearers quarters on-site at Pinchgut Creek station located near Cootamundra and a 2 hr drive west of Canberra. Leave Canberra at 4pm and arrive at the station by 6pm. After a station orientation/induction and some dinner, we'll have an astronomical orientation at the end of twilight. Fully catered : breakfast, lunch, dinner, supper, tea and coffee provided. BYO snacks.

To capture Barnard's Loop (above) requires a longer exposure
using a tracker, and good red sensitivity in your camera.


"The light fantastic, Milky Way Panorama, West Wyalong" (top right)
Skies at West Wyalong are simiar to PinchGut Station.

"Will you pleeeeaaase turn off that torch" (lower right)

The red in the sky is in this photo is airglow a chemical luminescence
in the upper atomosphere. The red on the ground is Greg Bond who just loves
to get into the foreground of Joe's nightscapes. The Milky Way will rise
and be in a similar position to this after 1am.

Guidance will be given throughout the night with night sky orientation (astronomy 101) including some Wiradjiri dreamtime astronomy. We'l assist with target identification, capture techniques and camera operation. Early in the night we'll shoot the rising Milky Way around Scorpius. Later, the full milkyway loop will be able to be captured as a panorama or circumpolar star trails. If we are rerally lucky, we might get an airglow display or a faint aurora invisible to the eye but that can be recorded photographically. Bright aurorae visible from this latitude to the eye are extremely rare.
Some motorised tracking devices will be available for you to try out. We will demonstrate set up of such devices including all important polar alignment technique. Bring your own tracker & learn how to set it up or take turns trying your camera on Joe's trackers. Objects such as Eta Carina and Rho Ophiuchi shown below are within your grasp with the use of the trackers. Naturally, the program will also include plenty of wide angle fixed tripod nightscape photography targets in addition to the tracking targets.
Eta Carina
Rho Ophiuchi
After midnight the central Milky Way will reach peak altitude. If you have the energy, it remains dark enough to do photography until 5am. By 4am, the zodiacal light will be visible and able to be photographed.
Requirements: DSLR, Lenses, Tripod, remote release (intervalometer recommended), small pair of binoculars useful but not essential, towel, bed linen - bottom sheet, pillow and sleeping bag for bedding, powerboard and chargers, very warm clothes. Own transport to Pinchgut (195km/2hrs). We will try to facilitate carpooling arrangements between participants if requested.
10
places available
10
people are
interested

0
people have enrolled
---