I guess the Chileans have a sense of humor. There are green signs saying, "ESTACION DE SERVICIO" (Service station) directing you to the only fuel station in San Pedro hidden away down an alley that comes off another alley. If you search for 'petrol station' in Google Maps, she takes you to a house on the outskirts of San Pedro. No petrol station. Seder is the Spanish verb for to be thirsty. So this bar near the service station has had a sign made up that says "SEDVICIO." Oh and they've removed the sign up the street directing you to the alley where the actual service station is located. I was tempted to drive into the bar and say, "Jenas por favor." (Fill it up please.)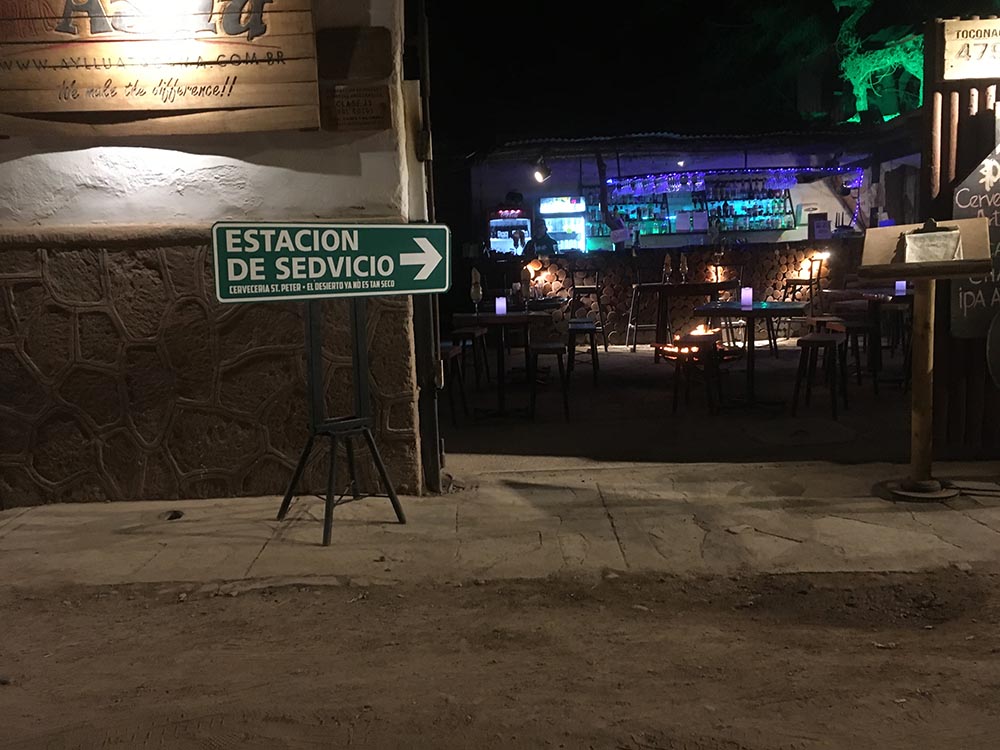 Saturday July 13
th
, 2019
Did a last bit of sightseeing this morning & afternoon as I took my time to drive the 90km to Calama, returned the rental vehicle and flew to Santiago in the evening.
Upon arrival, I did some night walking around the Lastarria district which is very lively at night. Being one of the main tourist districts, it is full of restaurants and cafes with street performers everywhere trying to make a living.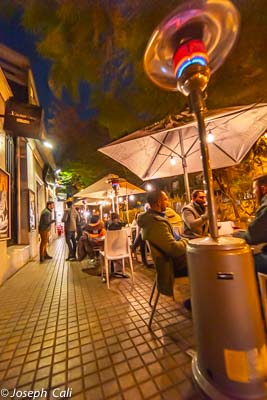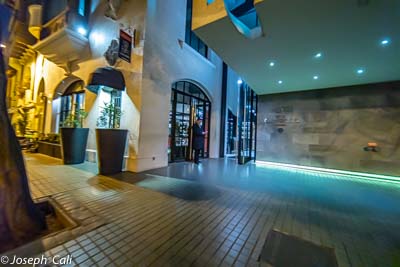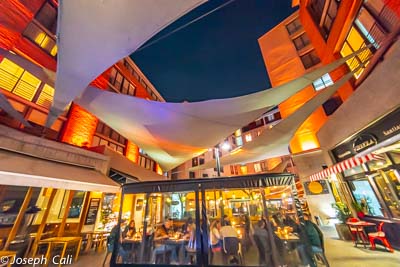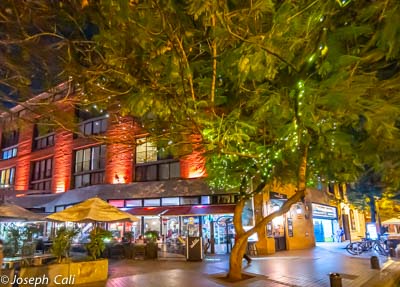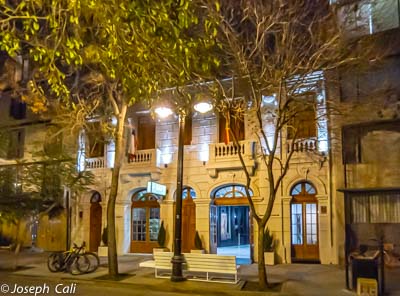 Tuesday July 16
th
, 2019
Well this almost brings me to the end of this amazing journey. It's my last night in South America and I'm back in Buenos Aires for one night. And guess what? There's a partial lunar eclipse. I took a quick picture, for token sake only. The eclipse was near mid point at moonrise and by the time the Moon rose above the Buenos Aires skyline, the Moon was halfway out of the Earth's shadow. You can see the blurred glow of the buildings through the trees at the bottom of the frame. Having taken a quick shot, I opted for dinner with friends who also just happened to be in BA tonight.
The July 16
th
lunar eclipse photographed from downtown Buenos Aires. The above image is a manually
merged HDR image made from two separate exposures, one for the sunlit part, one for the eclipsed part.
Wednesday July 17
th
, 2019
My hotel is just 7 blocks from El Ateneo Grand Splendid, the worlds biggest bookstore. Gotta have a look.
A busy city street at midday? Traffic controls in BA, pulse traffic so that you have these lulls with no cars on the road for a time. Also gives me a chance to shoot without cars in the foreground.
Hey Andrew(s) - Both my brother Andrew and Andrew Wilson, both lovers of guitars, they have a shop for you!
Hey Terry! After that time we wasted in Mendoza looking for a bag for you,
every corner shop in this part of BA is a travel bag store - go figure!
Time for some awards.........




Best beer, Kunstmann of Valdivia of course.


Best burger..definitely

in Lastarria Santiago.



Best meal..... Terry and I had a couple of beautiful fillet steaks at

Nueva Estancia Restaurant

in San Juan. But the meal I had last night in Buenos Aires at the Cyan Hotel de las Americas restaurant was superb.




Funniest shop name, Maky Warmi


in San Pedro where it was quite cold




Funniest car - a wicked campervan

In San Pedro

Worst plumbing.....Hmmm so many contenders, so hard to choose...toilets that block, showeers that either freeze or scald you, but this apartment block in Lastarria takes it out.


The fire hose is supplied by a PVC water pipe. Go figure?

Now here's a strange yet sad coincidence. Both of these homeless people are sleeping beneath street art of figures
that seem to be smiling or laughing at them. Both cities are very cold places to be sleeping out during winter.
| | |
| --- | --- |
| This one in downtown Santiago | This one in downtown Buenos Aires |
And here 'tis, El Ateneo Grand Splendid, a converted theatre. The old stage still has
the curtains and the cafe is situated on what used to be the stage.
And why is it the worlds biggest bookstore? It's because they don't sell anything.
I tried to buy something.....honest........but two credit cards, two pin numbers, identifcation
documents and CVC codes later and they couldn't process the payment. So I had to be
content to use the little bit of cash I had to buy a cafe con leche con medialuna in the cafe instead.



This unfortunately has been the case throughout Argentina when attempting to use foreign credit cards.
Almost time to leave my very very comfy hotel room. As Bengt would say, "Thank you Cyan Hotel de las Americas!" Time to head to the airport. An hour and a quarter to get there, couple of hours checking in and the formalities. Then seventeen hours in the air and a two hour stopover in Auckland and it's home sweet home.
Thanks for reading along, putting up with my OCD about the weather for the eclipse and all the references to my late friend Bengt.
I have resisted the temptation to post selfies. As I said to Aaron, the hitch-hiker from Singapore who asked on a few occasions if I wanted him to take my photo, "I'm not really a selfie type of guy." But it seems apt to finish this blog at the airport with one, just so I fit in with all the people around me taking them.