Saturday November 10

The expedition members started arriving in large numbers. About half arrived on Saturday 10th, half on Sunday.
Sunday November 11
On Sunday November 11, we catered a fantastic bbq come banquet by the pool for everyone. Many thanks to my friends Andrew and Andrea Wilson, the Shaws, the Zeilers, Dave Bassett, Bill Hall, Dan Orange and Andrew Cohen, my cousin Kristen Wollams and her partner Peter Richardson and especially to my cousin Anton Pulvirenti for helping with so much of the food preparation to make this fantastic night possible.
I also picked up a rentacar this day. As if the car accident wasn't going to be expensive enough, to add insult to injury, after organizing cheap car rental for a hundred or so people, I ended up having to pay $200 a day for mine.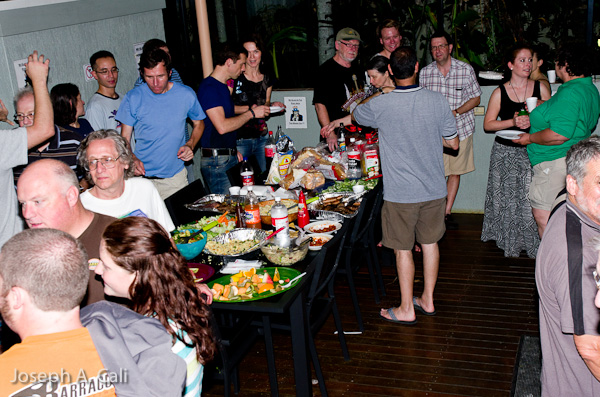 Monday November 12th - The reef cruise
On Monday morning we left early for the Port Douglas marina. I was out at my car with the laptop receiving the first weather report 15 mins before the boat set sail. It was not great news.
"A ridge along the north Queensland coastline is directing moist, onshore, E/SE winds over north Queensland. Expect this to bring some isolated showers today with cloudy periods. Unfortunately this ridge will persist into Wednesday morning and it is likely to bring morning showers along the coast and over the ranges. But further west, conditions will be drier and clearer skies will be more likely."
It was looking like we would be traveling inland and abandoning the Port Douglas Site. At this point our meteorologist's weather predictions were already pretty well spot on with this Monday 9am forecast having predicted 60% cloud on the coast, 30% at Mt Carbine, 15% inland and 15% on the west coast of the Cape.
As the boat headed out into the rough water it immediately began lurching violently. One engine was not working and so causing the violent instabilities. Fortunately, I don't get seasick even in rough weather but on this occasion, it was rough enough to even unsettle me slightly. Some people who took travel calm medication before the cruise were nonetheless violently ill. Eighty two passengers on the boat were from my group. I moved around the boat briefing people from the group about the weather. I could see lots of others not from our group leaning in trying to listen in on the weather info.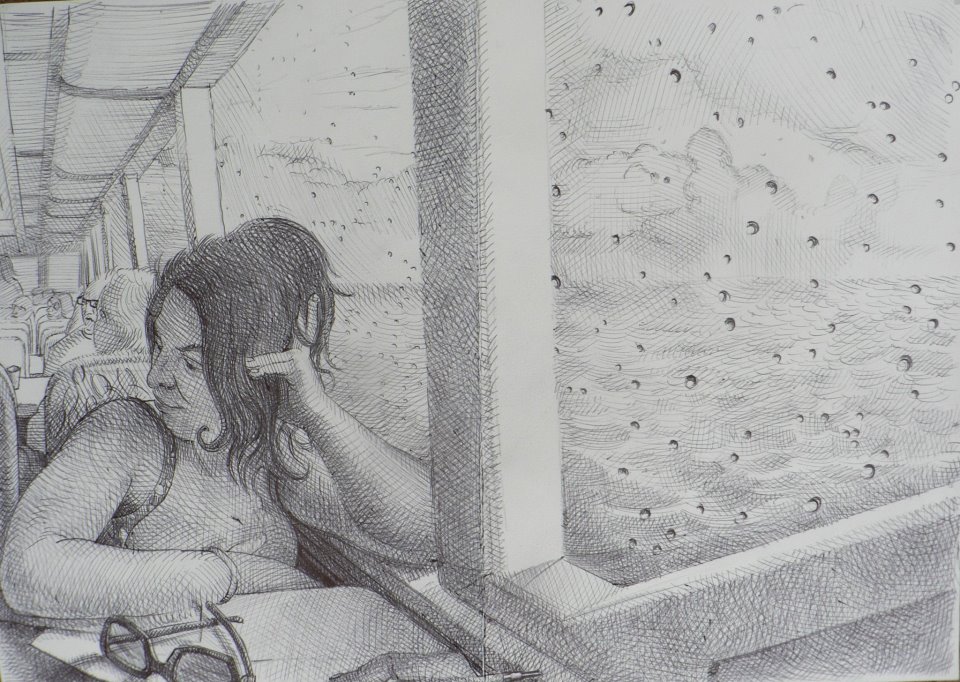 Above left : photo by Bill Hall. I had just done a deep jack knife dive down to the helmet dive platform when I saw my friend Dave Bassett down there. But I didn't equalize properly and nearly burst my eardrums. I knew there was a reason why I've never learned to scuba dive.

Below : Aaron Brown took these pictures while riding in the semi-submersible sub.

Above right : Pencil drawing by Anton Pulvirenti of Kristen Wollams in the wave piercing catermarran.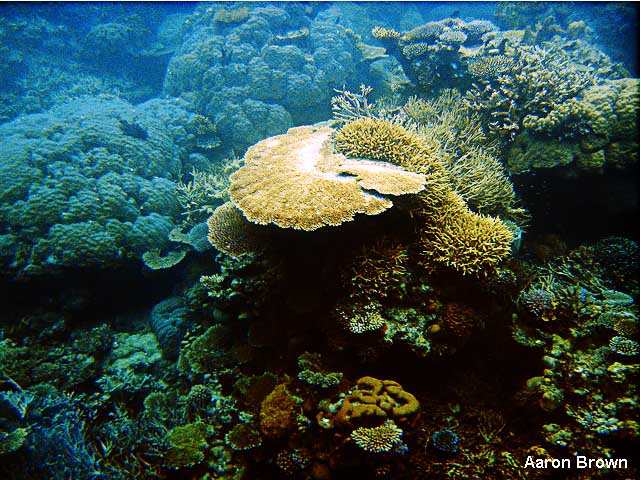 Our cruise returned at 5pm on Monday 12th, I drove straight out to the Port Douglas observing site to brief many of the observing site subscribers who came out to undertake a site inspection. About 40-50 people were present from the ASV, Sydney Observatory and AAQ. I updated them on the latest weather predictions.
After the briefing, I did the rounds of numerous hotels in Port Douglas to deliver site passes. I called through the resort briefly for dinner then drove into Cairns to deliver more site passes.
Tuesday November 13th
7:00am
The balloon launch and recovery team left for Kimba first thing this morning. They had radio phone and internet as well as satellite phone. We were still awaiting the final letter of agreement (LOA) from Air Services Australia (ASA) the body responsible for air traffic control.
8:00am
The first weather report was due at midday. I collected the borrowed telescope from Terry Cuttle and then I spent the morning test assembling and balancing my mount and trying to align the two telescopes. I helped Bengt to assemble my other equatorial mount, attach the OTA's and balance the mount.
Meanwhile, Anton sat back sketching us and produced this fantastic brush and ink drawing.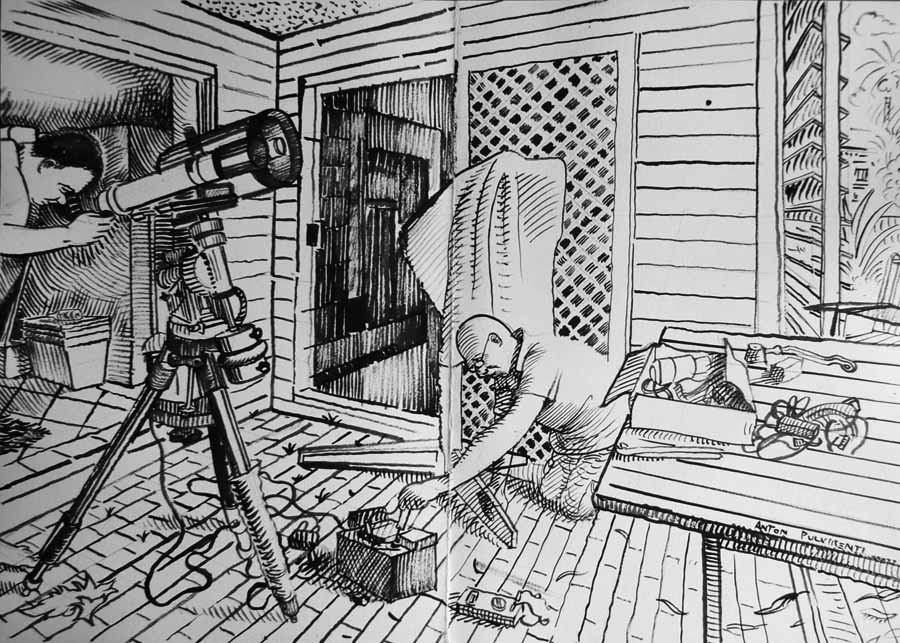 "Setting up, eclipse" by Anton Pulvienti
10:00am
A number of tour members didn't seem appreciate how good our weather consultants were and so all morning I had one person after another come and want to chat about the weather or show me their favourite weather web site. I saw no value in putting time into weather analysis having hired experts to do it for us. I kept asking them to be patient and wait for the consultant reports. No sooner did one leave than another would turn up at my apartment.
12:00pm
Around lunchtime, the final letter of agreement regarding our balloon launch with Air Services Australia arrived. I checked it, signed it and returned it to them. Waited for their confirmation of receipt and then sent a copy to the launch team.
The weather update also arrived. Weather prospects had improved marginally across the board with chances of clear sky being 55% on the coast, 75% at Mt Carbine, 90% at Maitland Downs and 85% at Pormpuraaw on the Gulf of Carpentaria. I forward the weather update by email to the full observer consortium.
3:30pm
Bengt Anton and I left for Port Douglas. No sign of police or emergency services along the coast road except at Rex lookout.
4:00pm
ABC 666 2CN Canberra radio booked up an interview with me which I delivered from the car (using my wireless headset, officer!) as we were arriving into Port Douglas. We had to erect a 1 x 1.8 metre sign identifying the observing site. We also did a whole lot of mundane but nonetheless essential things like filling the toilet blocks tanks with water, filling the holders with toilet paper and basins with soap.
I got some funny calls and emails during this eclipse. One of the funniest occurred not long after the radio interview. I received a call from the chief pilot of a charter airline. He was the pilot of an airline I had tried to organize my eclipse flight with before they ran into financial difficulties and had to reduce the number of planes on lease and canceled my booking. He had cooked up some scheme with his remaining planes to send them up at premium pricing to watch the eclipse from above the cloud ceiling.
They were running tourist flights at 10, 000 feet to view the eclipse from the air the next morning. He wanted to know if they climbed up to 10000 feet, and the cloud ceiling was 7000 feet, would they be able to see the sun or would they be looking down at it through the cloud? I said, "It's fine, the sun is at 15 degrees altitude." He replied, "Yeah but that's just from the ground, we'll be at 10000 feet so well be looking down at the sun. Do you think we'll be looking down through the cloud too?"
I actually had to explain to him that the sun was 150 million km away and it's altitude didn't change by any noticeable amount with a small change in height of the aircraft like 10 000 feet. I told Anton and Bengt about it and we had a good laugh.
5:00pm
I checked my email for the afternoon weather update. There was very little change. Weather prospects were the same across the board except for an insignificant 5% worsening at Mt Carbine with chances of clear sky being 55% on the coast, 70% at Mt Carbine, 90% at Maitland Downs and 85% at Pormpuraaw on the Gulf of Carpentaria. I forward the weather update by email to the full observer consortium.
6:00pm
I was supposed to give a briefing at 6pm at the resort but we were running late. I called ahead and asked one of the experienced eclipse chasers to give the first time eclipse observers a briefing on the use of eclipse glasses and eclipse viewing and asked the group to reconvene at the pool at 7pm.
7:00pm
I arrived from Port Douglas at 6:59pm and went straight from my car to the pool area to give the latest weather briefing. What a crazy day? Everybody is assembled and we get straight into it. I explain the weather situation although by this time most people at the briefing.
---
P
age 3
of 9
<- PREVIOUS
NEXT ->