The Great Oz Eclipse of November 2012
by Joe Cali



---



Site 4 "Air Cali" f

light

Q6 2086 is ready for boarding


The flight to Pormpuraaw on the Gulf of Carpentaria Coast

Early in my organization of this eclipse, December 2010, I made an arrangement to charter five separate ten seater aircraft each carrying a max of 8 passengers each to transport 40 people across to the west side of Cape York in the event of cloud.

It's a 550km flight from Cairns to Pormpuraaw, the Edward River (EDR) airport. Pormpuraaw had very little accommodation, just a few hotel rooms at the pub. However, EDR airport has landing lights and Cairns airport has no curfew so I formulated a flight plan to depart Cairns at 0230 landing at EDR at 0430 on Wednesday 14th about 90minutes before sunrise. The planes would depart EDR about an hour after the eclipse

The charter company ran into financial difficulty and relinquished leases of their planes so early in 2012, I had to start over. I found another charter company and chartered a single Bombardier Dash-8 to fly thirty six people to Pormpuraaw on the west coast of Cape York. I had more than 50 people who had expressed interest. I figured some would drop out and we could charter a small plane for any overflow.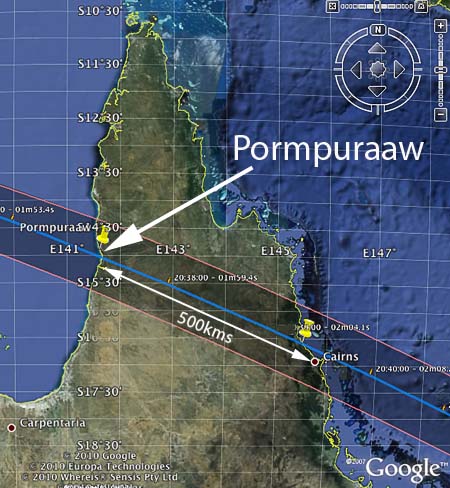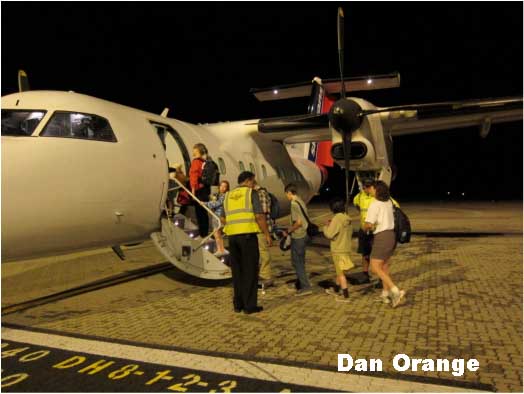 Above: Flight path of Q6 2087 from Cairns to Pormpuraaw(left) Orange and Cohen families boarding the plane at 4am.
Below: A busy check-in terminal greeted the expeditioners at 02:30 am. Rod Sims and Emily Love check in for flight Q6 2086.


With the higher airspeed of the Dash 8, we amended the flight schedule to a later departure :



Wed Nov 14

Depart Arrive

Time A'port

A'port

Time

0300 CNS EDR 0430

0815 EDR CNS 0945


Wednesday 14th

1:30 am Rise and shine, have everything ready so you can get moving.

2:00 am Depart the resort for the airport in your rental vehicle.

2:30 am Be at terminal ready to board aircraft

3:00 am TAKE OFF! Destination Pormpuraaw 500km NW Flight time 1hr 30 min depending on conditions

4:30 am Land Pormpuraaw airport. Airport has night landing capability

4:15 am transport to track on west side of airstrip or walk (900m)?

4:38 am Astronomical Twilight begins

5:44 am Partial eclipse begins before sunrise

5:54 am Sunrise

.............................Eclipse.............................

Time(Local)

Event

Alt.

6:36:24.2 AM 2nd contact: 9

6:37:21.1 AM Mid eclipse: 9.2

6:38:17.9 AM 3rd contact: 9.5

7:35:57.9 AM 4th contact: 22.8

Calculated Limb corrections applied.

C2=-1.5, C3=-2.4 seconds.

08:00 Be back at terminal ready to board aircraft

08:15 TAKE OFF! Destination Cairns 500km SE Flight time 1hr 30 min depending on conditions

09:45 Land at Cairns airport. Return to resort for some well earned rest.

Totality duration

Totality duration was calculated as 1 minute and 54.5 seconds.

When corrected for the lunar limb profile the duration changed

to 1 minutes and 53.6 seconds. Lunar limb calculated corrections

subtracted 0.9 seconds of duration using the Kaguya/Herald lunar

limb data set. The Sun will be about 9 degrees above the horizon

for totality.


All of the tickets on the flight were pre-sold by mid-September 2012. The numbers worked out perfectly. The plane has a 36 seat capacity. Tickets were about $500 each. Cancellation fees for the charter in the days before the eclipse were 100% - no refund if we cancelled the flight. At that price, only 36 of the original 50 wanted to proceed with the flight option.

Another 4 people came in very late in the process after the Dash 8 was full wanting to fly. Charles Cooper, Sophean Bo, Phos Heng and Steve Kolodny. I arranged a separate charter of a Cessna 402c through Hinterland Air for them.

On eclipse day fifteen ticket holders, myself included, chose not to fly but instead drive to Site 3A or 3B. 3A & 3B had marginally better weather prospects and we could transport larger equipment to those sites in our cars. The charter flight would have limited the equipment some of us could have transported. Many who did fly had light weight gear or no equipment at all and they really wanted to observe from this more exotic location. Some wanted to get further west to enhance umbral shadow effects.


Twenty one passengers who took the Dash 8 flight to Pormpuraaw.



Michael Gill


Alex Scutt

Stephanie Hogg

Betty Ann Lee

Claire Houston

Dianne Hughes

John Hughes

Emily Love

Geoff Sims

Rod Sims

Liz O'Mara

Tony Crocker

Dan Orange

Bonnie Holmer-Orange

Cassidy Orange

Isaac Orange

Gabriel Orange

Andrew Cohen

Denise Bellamy

Mo Cohen

Keira Cohen


After all the preparations, the outbound flight turned out to be a bit of an ordeal for the twenty one passengers. The charter company forgot to refuel the aircraft on Tuesday evening. The pilots, ground crews and passengers were all ready to take off at 3am but the only refueller scheduled on duty that morning wasn't scheduled to start work until 4:00am. The charter company staff told the passengers that the refueller slept in but the truth was that the refueller wasn't scheduled to be on duty at 3:00am and they should have refueled the aircraft the day before. The flight took off 1hr15m late. Geoff Sims among others had already pulled his bags off the plane and was preparing to leave the airport when the refueller arrived and the plane boarded at 0415 hrs and landed at Pormpuraaw at 05:45 ten mins before sunrise.



Alex Scutt wrote:


After some very anxious moments with our plane journey being delayed by 75 minutes and several

of us almost leaving the terminal to drive inland, we took off at 4.15 and arrived in time for a beautiful

sunrise in perfect conditions and we saw the eclipse from beginning to end. Beautiful prominences

throughout totality and two wonderful diamond rings made this a memorable and beautiful eclipse.

The community in Edward river looked after us so well and their hospitality was quite unexpected,

many of the locals teachers and community workers were seeing their first total eclipse.

Alex

---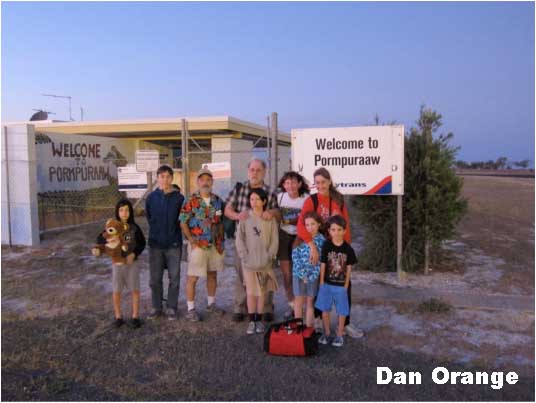 Above : Back of the Dash 8 from left Alex Scutt and Stephanie Hogg, Tony Crocker and Liz O'Mara with Michael Gill behind
(left)
.
The Orange and Cohen families at the airport(right)
Below: The partial eclipse was already in progress below the horizon just before sunrise(left) Setting up quickly after a late arrival at the dry lake bed(right)


The eclipse was in progress at sunrise on the Gulf coast. The local community helped out by collecting the group from the airport and ferrying them to a wonderful eclipse viewing site on a dry lake bed.

Above: The Orange and Cohen families setting up at the observing site(left) Michael Gill, Geoff Sims and Emily Love (right)
Above Geoff Sims, Emily Love and Rod Sim's setup
| | |
| --- | --- |
| Pilots enjoy the spectacle. Note the guy on the left too cool for eclipse shades - he's wearing sunglasses! | Another view of the "crowded" observing field photo : © Geoff Sims |


Geoff Sims took this wonderful wide field image : -





and this fantastic video



Total Solar Eclipse 2012 (Pormpuraaw, QLD) - GoPro Timelapse #2 (24 fps) from Geoff Sims on Vimeo.




Check out more of Geoff Sims great eclipse images on his inspiring website "Beyond the Skies, Beneath the Seas" at http://www.users.on.net/~simsg/ where he has many more outstanding images from Pormpuraaw



Liz O'Mara wrote:
Many thanks to Joe Cali for above & beyond efforts in getting many of us past the clouds!

We almost bailed on the flight upon learning our plane was out of gas, and the fueling guy was

asleep in bed - but he made it to the airport as our fearless leader Michael Gill was running out

into the parking lot - security almost stopped us from passing on the news but we outwitted them

and all boarded. The crew on the plane itself & in Pompuraaw went the extra mile and drove us

to a nice viewing field with a clean horizon.

Solar crescents at C2 & C3 were pronounced, prolonged and spectacular, but the TSE was a little short!

Liz





Cheers

Joe Cali




---
Page 9
of 9
Home Page ..............Index of other eclipse reports
Personal logs
1. Introduction, Preparations and tour structure
2. The final eight weeks before the eclipse
3. Eclipse Week
Observation / Activity Reports
4. Stratospheric Balloon flight
5. Observations from Trinity Beach and Port Douglas
6. Inland Escape - Mareeba - Mt Molloy
7. Inland Escape Maitland Downs - Cow Manure Paddock - Site 3A
8. Inland Escape Maitland Downs - Road Camp - Site 3B
9. Escape flight to the Gulf of Carpentaria