The Great Oz Eclipse of November 2012
by Joe Cali

Escape to the Atherton Tablelands


This picture (above) by Rick Stevenson of site 3A at Maitland Downs



Maitland Downs Site 3A "Cow Manure Paddock"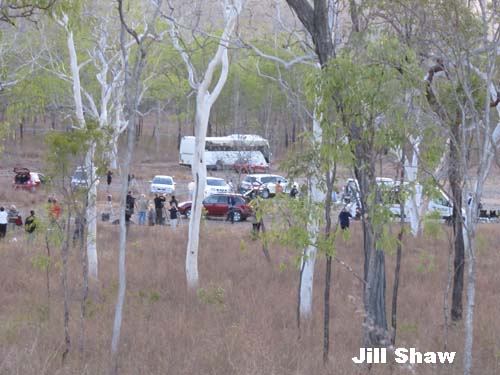 My primary recommendation was for people to travel inland to site 3A if possible. I practice what I preach and hence this is where I went.

Bengt had been very sick in the weeks before the trip and so I left him to sleep while my cousin Anton and I disassembled the telescopes and loaded the car. Bengt, Anton and I departed the resort at Trinity Beach at 12:30 am Wednesday morning. I drove up the coast road which was almost deserted to Port Douglas. I called into the site just to check on activity. The property owners were going to get up at 3am. No surprise, the site was almost deserted. Most people were due to arrive after 3am. I drove up to Jullaten and to Mt Molloy arriving at 1:30am. I drove into town, pulled up, logged in on the computer and received the final weather update from the meteorologist. It was basically the same as the earlier predictions, the meteorologist issued a prediction for 90% + chance of clear sky at the Maitland Downs sites.


"The morning will be fine and overall skies are expected to be mostly clear. Some brief cloud cover will remain a possibility but the size of the clouds should remain quite small and clear conditions should dominate. Between 0/8ths and 1/8ths cloud cover is expected during the morning. Around 90%+ of the eclipse is expected to be able to be seen from the estimated cloud cover expected. The chance of rainfall is close to 0% while winds will be E/SE at 10-15 knots with an estimated temperature of 20C."


I forwarded the email to the observing site subscribers and pushed on.

We arrived at Mt Carbine and I zeroed the trip meter. Our site was 65km past the Mt Carbine hotel. We covered about half the distance and I found a quiet spot to pull off the road. I figured there would be no rest once we arrived at the site and I could feel the fatigue weighing on me. I pulled up switched off the engine and put on the hand brake. My eyelids were heavy and I began to lapse into a much needed nap.

Suddenly Bengt blurted out, "The car is still moving!" I woke with a start and slammed my foot on the brake. My heart was racing. The car did not jerk to a halt, we were stationary. I checked the handbrake, it was on and the car's auto transmission was in park gear. Bengt meant to indicate that he had white line fever and felt as though the car was in motion but something was lost in translation. Nonetheless, I was wide awake now, adrenaline has a funny way of waking you up like that. So I started the car and continued on reaching the site some 20 - 25 minutes later.

There were many cars and people were already set up at the site by the time we arrived. I was concerned at first until I got out of the car and realized that they were almost all from our consortium.
The site had a 9o horizon which was not ideal. It was however high enough to scare off most casual passers-by looking for a place to set up. This meant that our large group was able to roll in a few hours before totality. While all obvious places, admittedly better sites, were fully occupied, this site was empty and our large group was able to roll in and casually occupy it without worrying about competition or feeling like we were intruding on a space someone had been minding for days. No sight of the property owners either.

It was a large open paddock, admittedly with some cow pats on the ground and deep hoof imprints made walking in the dark a bit of an adventure. However first light revealed a beautiful stand of ghost gums that had attracted me to the site during survey but that I hadn't really mentioned in briefings. So when first light hit, people on site were pleasantly surprised and taken with the surrounds. Some came up and commented on this to me after the eclipse.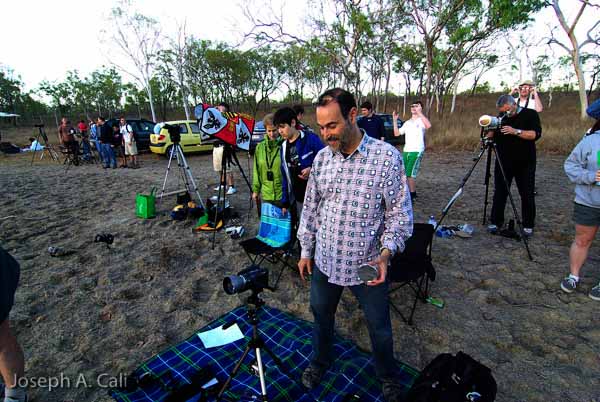 Jay Friedland with Leila & Benno Friedland in the background. Jay last came to Australia almost exactly
ten years ago as a member of our Cameron Corner expedition to see the 4th December, 2002 total eclipse.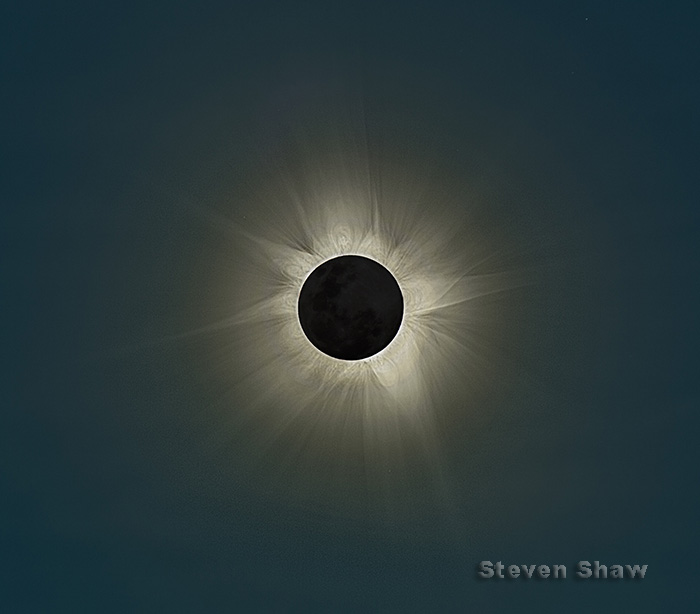 Steven Shaw's dramatic coronal composite. This was Steve's first eclipse and first attempt at any sort of astronomical imaging.
He made exposures over approximately 14 stops of exposure taking and averaging 4 frames at each exposure level.
He didn't have any reference and worked out he radial stitching, averaging and sharpening in isolation. I was amazed when he showed it to me just before Christmas

Yikes! Imagine what he'll produce at future eclipses.
At least thirty one, almost a third of our Trinity Beach Marlin Cove Resort Group traveled to this site making it the biggest single destination for the group based at Trinity Beach.
Persons present included : -


Joe Cali, Bengt Alfredsson, Anton Pulvirenti

Glenn Schneider, Joel Moskowitz, Steve Kolodny

Steve, Judy, Geoff and Jill Shaw

Bill Hall and Dave Bassett

Larry Stevens, Michelle Bales, Sue Jones

Bob and Elisabeth Slobins

Jeff, Chad and Jaime Jolin

Peter, Robbie, Denni and Jamie Lanc

Jay, Melissa & Beno Friedland

Matthew Poulton and Aaron Brown

Kristen Wollams and Peter Richardson
Chris Cox, Joshua Cox, Allan Clancy,
Carol Eden, Catalin Fus, Georg Lenzen
Rick and June Stevenson, David Trappert



From the larger observing site consortium : -

Steve Baldwin & party (NZ)

A number of ASV members including Mark Sansom



A handful of others arrived as well : -

Daniel Lynch (Ireland) and his student group


Marko Pekkola and his

Finish Astronomer bus group (44 pax) who subscribed to weather updates only and landed upon our site by accident.


As twilight broke, I looked at where people were set up and applying the 6.8o magnetic correction, I realized that a number of observers had lined up in the dark on the tall tree that can be seen at the far right of Glenn Schneider's photo below. I went around warning those observers that they were lined up on the very tall tree which would obscure totality. Most had lightweight equatorial mountings or simple tripods and I cleared a swathe through the group to avoid this obstacle. They had plenty of time to move.


My observing partner, Bengt Alfredsson and I had two heavy EQ tracking mounts at our disposal that I transported from Canberra by car. I had a 200mm diameter SCT borrowed from the Astronomical Association of Qld on an iOptron iEQ45 mount for photography and an 80mm scope for visual observations. Bengt had two camera systems computer controlled on the other - my old 1982 hand-made very solid EQ mount. One was attached to my best little refractor, a William Optics M72, the other had a Nikon 180mm f2.8 telephoto lens.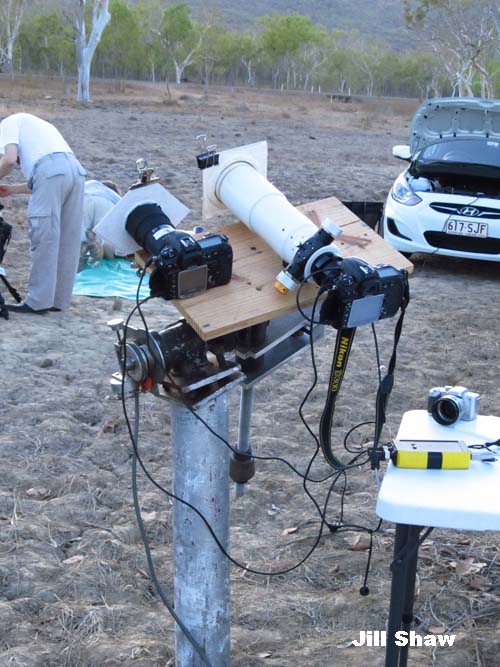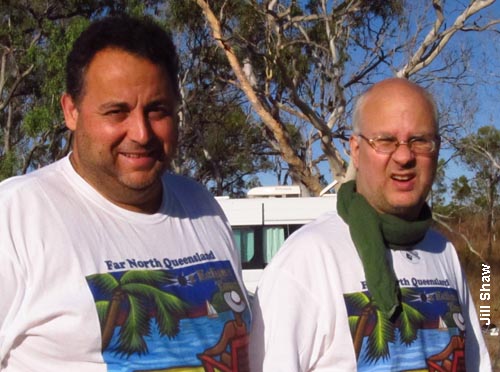 Joe Cali and Bengt Alfredsson
My cousin Anton was also traveling with us. Anton and I shared a room at the resort for the week. Anton, equipped
with his trusty pencil rubber brush and ink and began the drawing below reproduce much bigger at the start of this report and completed it at the resort :
Anton Pulvirenti began this brush and ink drawing during the eclipse and finished it at the resort later. He has high
quality limited edition prints of this brush and ink drawing available for sale.
Click here for details
He has made a study of this subject and as such has completed several brush and ink drawings in the study including the wonderful drawing at the top of the page.
A number of people expressed and interest in buying these so he is offering the originals from the study and high quality limited edition prints from the images for sale.
As the eclipsed sun cleared the trees, about 6-7 minutes remained before totality. I turned to the west to examine the penumbra in the sky. To my surprise I saw a large amplitude flicker of the sunlight reflected off the bright white trunks of the ghost gums.

I took out a large mirror tile I'd brought along with a 15cm circular mask over it to make a round aperture. I projected the reflection onto the side of the Finns bus some 50m away and produced a 50cm diameter bright image of the sun. The back silvered mirror produced a double image but it worked.

Totality arrived quickly. It might be my imagination but totality and diamond rings seemed sharper than I recall. This might be a subjective impression. Light clouds attenuated the outer corona and at solar maximum, the coronal streamers are shorter anyway. To the naked eye, the corona seemed thinner than recent eclipses thereby contributing to my impression of a sharper eclipse.

Glenn Schneider
"With cloud cover predicted "iffy" for the coast a number of us who preplanned to observe from near Port Douglas
opted instead for a midnight 3-hour inland "escape" to -16 14 30 N, 144 43 33 observing from a Cow Paddock
~ 66 km NW of Mt. Carbine. Beautiful clear skies with just the very faintest
wisps occasionally of extremely thin
cloud. A gorgeous solar corona with a huge diversity of prominences visible throughout. Just back to our Trinity
Base beach a very short while ago.
Many thanks to Joe Cali for his diligence in logistical arrangements on many fronts."

Glenn's full report and photo's : -
http://nicmosis.as.arizona.edu:8000/ECLIPSE_WEB/ECLIPSE_12/TSE2012.html

by Glenn Schneider with Joel Moskowitz, Matthew Poulton, Steve Kolodny,
Jay, Melissa & Beno Friedland, Bengt Alfredsson and MANY more (Joe, of course) whom I am sure will say much more.
Daniel Lynch
" I can't begin to thank Joe for all his work on this eclipse. He contributed hugely to my first trip leading some
of my school kids. His work and preparation were incredible. My students couldn't believe the time and effort
you had put in. Thanks also to all the eclipse-chasers we met along the way and observed with in Maitland
Downs. It was fantastic meeting you all again."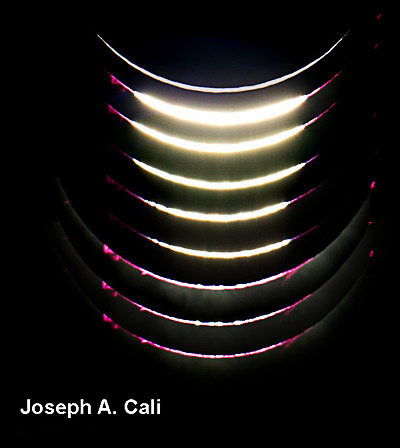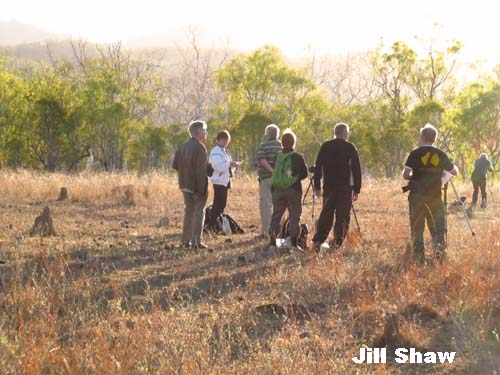 Jill Shaw was everywhere. She took some pictures of the action at the top of the hill where the 44 Finnish astronomers had set up.........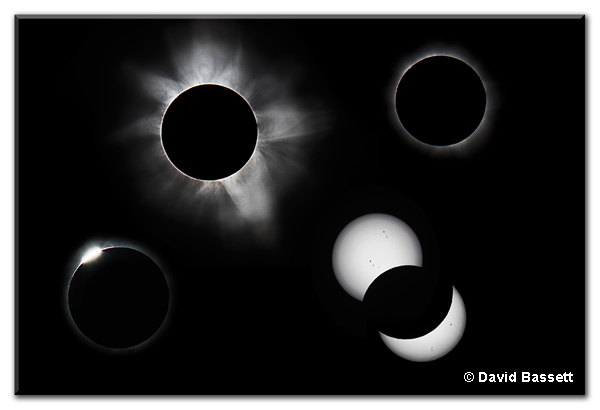 and she also took some shots down in the paddock. Above left Steve Baldwin packing up after the eclipse by Jill Shaw. Above right, Dave Bassett's photo montage of different phases of the eclipse.
Rick Stevenson captured this stunning composite at site 3A. He said, "My wife, June finally admitted it was worth sleeping in the car and eating dry bread and cheese for breakfast when she finally saw totality. That's a big admission from her since she likes comfort and has no interest whatsoever in astronomy."




Above : Rick Stevenson, June Stevenson and Chris Cox lined up for totality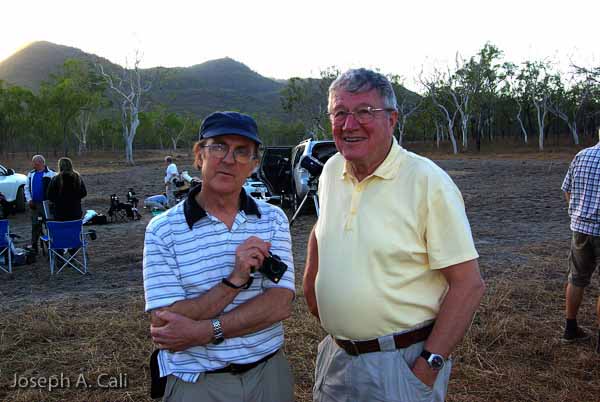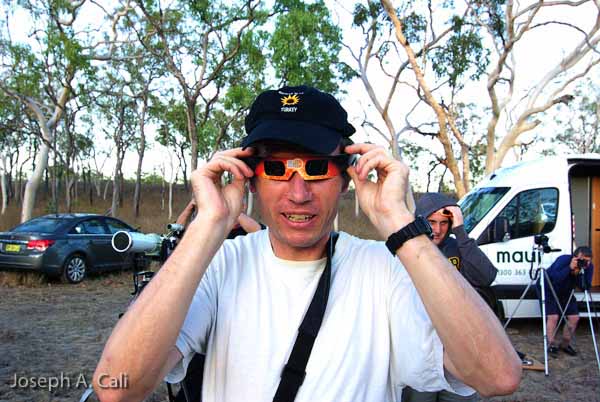 My mates Dave Bassett and Bill Hall from Canberra Matt Poulton from France models eclipse glasses



Steven Shaw(above left) lines up to take the stunning composite at the top of the page.





Joel Moskowitz (center) recites the Jewish prayer "Shehecheyanu" in English transliteration, not sure if the Hebrew will display correctly --> שהחינו.

The Shehecheyanu is a blessing for special occasions that is recited when one experiences a rare, new, unusual and or infrequent life events that gives one great pleasure. F

rom left to right Steve Kolodny, Glenn Schneider, unrecognized person behind Glenn, Joe Cali, Joel front, Steven Shaw and Bengt Alfredsson.




---

Page 7
of 9
< PREVIOUS
NEXT >
Home Page ..............Index of other eclipse reports
Personal logs
1. Introduction, Preparations and tour structure
2. The final eight weeks before the eclipse
3. Eclipse Week
Observation / Activity Reports
4. Stratospheric Balloon flight
5. Observations from Trinity Beach and Port Douglas
6. Inland Escape - Mareeba - Mt Molloy
7. Inland Escape Maitland Downs - Cow Manure Paddock - Site 3A
8. Inland Escape Maitland Downs - Road Camp - Site 3B
9. Escape flight to the Gulf of Carpentaria