The Great Oz Eclipse of November 2012
by Joe Cali



This report is in 9 parts




Personal logs




1. Introduction, Preparations and tour structure
2. The final eight weeks before the eclipse
3. Eclipse Week



Observation / Activity Reports


4. Stratospheric Balloon flight
5. Observations from Trinity Beach and Port Douglas
6. Inland Escape - Mareeba - Mt Molloy
7. Inland Escape Maitland Downs - Cow Manure Paddock - Site 3A
8. Inland Escape Maitland Downs - Road Camp - Site 3B
9. Escape flight to the Gulf of Carpentaria

---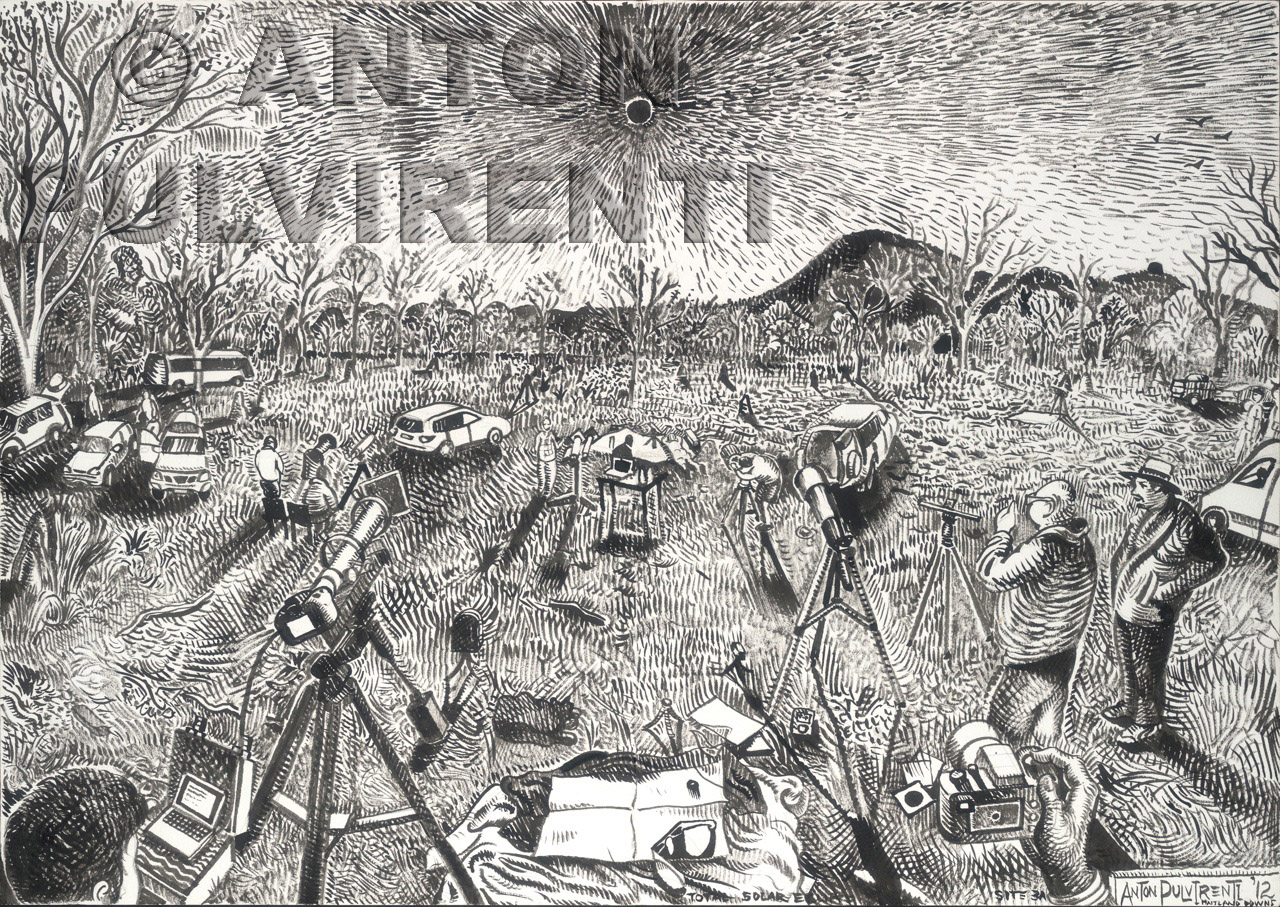 Brush and ink drawing of the scene at Maitland Downs by artist Anton Pulvirenti. He has high quality limited edition prints of this brush and ink drawing available for sale.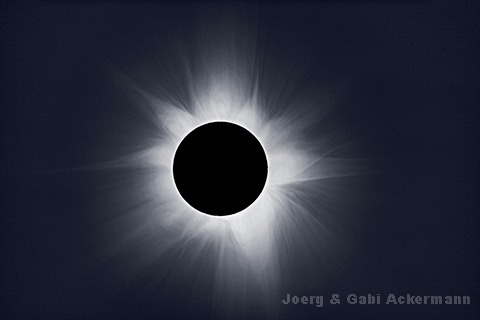 Introduction
It's hard to believe it's finally all over!

After three long years working on this, success! I began writing this report as I spent a week relaxing in Cairns after the eclipse. This eclipse, I took on a task of mammoth proportions. I ran a tour for 105 people based at Trinity Beach and organized some eclipse observing ground logistics for another 200 observers from five large tours and numerous small tours or individuals. A further 50 subscribed to weather updates and cloud avoidance strategies. I was also part of the Eclipser 1 team, a high altitude balloon based photographic record of the eclipse.



Picture above right : The

2100Z

slot MTSAT VIS image taken on 13th November, 2012. The umbra is clearly visible jutting out into the south Pacific. From the position of the umbra it's obvious that
it wasn't actually taken at 2100Z, more like 2040Z.
Picture above left: Magnificent coronal composite by Joerg and Gabi Ackerman
taken from site 3B near the turnoff to Maitland Downs.

For my primary tour group of 115, I organized accommodation, transport, reef cruise and eclipse day observing logistics. At the center of my plan was a farmers field at Port Douglas set up to host hundreds of people on the east coast. One week before totality, I re-scouted inland relocation options scouted in November 2009 by my colleague Terry Cuttle. I also chartered a Dash 8 and a Cessna 402c to fly up to 42 people to the Gulf of Carpentaria.

Preparations
I began working on this project some weeks after returning from the Shanghai eclipse in 2009. A number of my eclipse chasing friends asked me if I would able to organize something for 2012. I decided to go ahead with this. I booked sixteen 1br and 2br apartments in Port Douglas to accommodate about 35-40 people. I recall at the time wondering if I was being foolish renting "so many apartments" and whether I would fill all the apartments. Ha! They were full before November 2009 and before I knew it and I had people asking to be included that I couldn't accommodate.

Meanwhile, close friends and relatives who I told of my plans and who were neither eclipse chasers nor amateur astronomers started expressing interest in coming. These people were even harder to refuse and I realized I had to increase capacity.



Bengt and I met a new group of eclipse chasers on Tatakoto for the 2010 TSE. During our week on Tatakoto, the group who included people like Larry Stevens, Matt Poulton, Bill Spear and Geoff Sims asked me if I would organize something. With my accommodation full, little as I liked it I initially had to turn them down but told them that I might be able to offer something a few months down the track.

Fast forward five months to mid-November 2010. I traveled to Cairns for 5 days to scout. During that time I looked at many accommodation complexes at Port Douglas, Cairns northern beaches and Cairns. I eventually settled on Trinity Beach.

It's one of the nicer beaches and I got a great deal on holiday apartment accommodation. Some people sharing apartments paid as little as $30 per night per person. I canceled my booking at Port Douglas and took a booking at Marlin Cove Resort booking all available rooms.



Each morning at eclipse time I checked out different viewing areas including Trinity beach, Yorky's Knob, Oak Beach, Port Douglas and areas inland like road verges and farm fields at Smithfield, Mowbray and Port Douglas. Terry Cuttle was with me and we divided and covered more areas that way.

On my return, I emailed the wider group of eclipse chasers who I'd turned down indicating that I now had plenty of accommodation capacity to extend the arrangements to more people. This had an unintended consequence. These people began asking me to include their friends. At the same time, Terry and a number of other members of the AAQ who are long time friends asked me if I would include AAQ members in my "tour." Over a period of 8-10 weeks, during the summer of 2010/11 numbers grew from 40 to 130. I realized I could not handle a tour this size alone. The people who were joining the tour were mostly independent traveler types anyway. So I decided not to bring in an inbound tour operator which would push the price well up. Instead I organized the tour as a consortium of small private tours which suited most of the participants to a tee. Each travel group or family had a fully self contained holiday apartment and a rental car. My organization was limited to a fixed number of activities and each group was responsible for all the minutia.

I organized

Accommodation

Car rental or shared mini bus (organized and expertly executed by Larry Stevens - thanks Laz)

Reef Cruise

Prime Observing Site (Port Douglas)

Inland relocation sites

Air Charter (Dash 8) relocation to Gulf of Carpentaria

Welcome BBQ/Banquet

Hire of meteorologist

Briefings & communication of weather updates

Each group was responsible for : -

In structuring the tour this way, as the group grew in size, the workload remained manageable though substantial.

There was a much larger group of people, another 200 observers who subscribed to the Port Douglas Observing Site
and a tour of 45 Finnish astronomers who subscribed to weather updates only
.
This entitled them to access : -

Use of the Port Douglas Site

Weather briefings from our contracted meteorologist

Access to information about inland relocations
I supplied them with information about each observing site. In my tour group people had the following choices : -
1. Stay at Trinity Beach, using a council permit Terry Cuttle obtained to rope off an area at one of the picnic shelters. Take whatever weather came their way but get a good night's sleep.
2. Go to the main observing site at Port Douglas. This observing field would be equipped with portable toilets, essential for a group of 300 people staying for 6 hours.

In the event of coastal cloud,
3. Move to surveyed sites between Mareeba and Mt Molloy
4. Move to surveyed site at Mt Carbine
5. Move to surveyed sites at Maitland Downs


6.

Take flight to west coast of Cape York and move to surveyed site at Pormpuraaw (Flight had to be pre-paid in October)

I contracted Weatherwatch Australia to provide comparative predictions for Port Douglas, Mt Carbine ( Mt Molloy & Mareeba), Maitland Downs, West coast of Cape York.

I contracted these reports to arrive at : -


| | | |
| --- | --- | --- |
| Monday Nov 12th | 9:00am | Initial report on how weather was shaping up |
| Tuesday Nov 13th | 12:00pm | Used this report to confirm the activation of the two charter flights |
| Tuesday Nov 13th | 4:00pm | Used this report to brief the group on their options at 7;00pm |
| Tuesday Nov 13th | 9:00pm | Used for confirmation of no change |
| Wednesday Nov 14th | 1:30am | Used for confirmation of no change |

I didn't get too many reports too early. They are of little value. We had our relocation strategies available. By getting reports too early while models still were a bit jumpy would have wasted a lot of energy with us running scenarios. The Monday report gave me an idea of what was going on. The Tuesday reports were used to make a series of decisions.

The tour group was composed of about 30 smaller groupings of people with their own transport. At the Tuesday night briefing, we gave people a final run down of their options, what time they'd need to leave to take that option. There was some differing opinions between members small groups. A bit of reshuffling of passengers between rental cars and this was quickly sorted out.




Page 1 of 9

NEXT ->

Home Page ..............Index of other eclipse reports


Personal logs




1. Introduction, Preparations and tour structure
2. The final eight weeks before the eclipse
3. Eclipse Week



Observation / Activity Reports


4. Stratospheric Balloon flight
5. Observations from Trinity Beach and Port Douglas
6. Inland Escape - Mareeba - Mt Molloy