The Great Oz Eclipse of November 2012


---
Inland Escape to the Atherton Tablelands
- Two Sites Between Mareeba and Mt Molloy (Molloy South)



Some observers in our group traveled to the area between Mareeba and Mount Molloy. The weather predictions for this area were not certain by any means. Our meteorologists wrote,


"Expect between 2/8ths and 3/8ths cloud cover, though much of this will be over the eastern half of the sky. Expect around 50-70% of the eclipse to be able to be viewed – but there is the uncertainty of some morning fog over this location also which may develop during the early hours of the morning."



My primary advice was to travel further inland to the Maitland Downs area but this necessitated missing most of the nights sleep. Some people compromised between getting some sleep and improved weather prospects by choosing this area which offered better prospects than the coast though not as good as Maitland Downs or the Gulf Coast.

People in this area, not all at the same exact location, included : -

Tim, Georgie, & Anthony Napier-Munn

Alison Beck

Howard Simkover and Louise Klein

Michael Zeiller, Polly White, Allen & Corrine White

Stig Linander, Birgit Linander, Signe Linander, Lise-Lotte Loebger

Tim, Georgie and Anthony Napier Munn and Alison Beck(back) from the Astronomical Association of Queensland are filtered up and ready to go!



Solar Crescents Projected by pinholes




Canadians Howard and Louise have observed many eclipses. Howard, a long time eclipse chaser, having started with March 7, 1970 in the US.




Louise Klein has been to 4 total eclipses in 1998, 1999, 2006 and 2009. This eclipse was Howard Simkover's 19th total eclipse.
| | | |
| --- | --- | --- |
| The Napier Munn family arrive the the site north of Mareeba and begin to unpack. | | Alison Beck raring to go! |
Howard & Louise wrote:-


In the end, we were very fortunate to see the eclipse. The total eclipse path ran across a peninsula in Queensland, which included the city of Cairns. But the tropical weather in that region was very "iffy" for several days ahead of the eclipse – we experienced clouds and frequent rain showers mixed with occasional periods of sun. Not good!
Fortunately, we received the advice of an expert meteorologist, who recommended that we leave the coast and drive over the mountains. Louise and I departed our hotel at 3:45 a.m. on eclipse morning to travel to our chosen site about 100 kilometers inland. There, we found clear skies for the eclipse just after dawn. Sadly, we learned that tens of thousands of people who tried to see the eclipse from the beaches near Cairns were clouded out.


- Howard Simkover and Louise Klein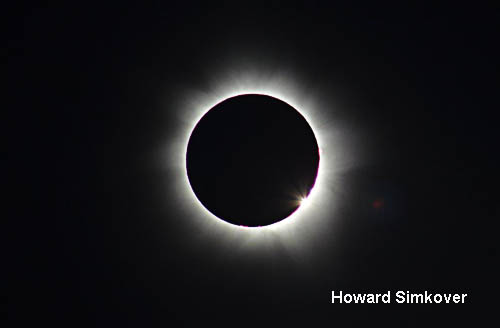 Tim Napier-Munn

, president of the Astronomical Association of Queensland wrote in the December newsletter : -

When at the November OGM I asked for a show of hands of those who
had witnessed either the partial solar eclipse in Brisbane or the total
eclipse in North Queensland, I think I'm right in saying that every
single person in the lecture theatre, apart from three young visitors at
the back, raised their hand!

It really was a spectacular event and was successfully observed by many
of our members, including well over 30 who travelled to the Cairns
region to observe it. Many of these travelled in a group brilliantly
organised by Joe Cali and I would like to thank Joe for the wonderful
job that he did under difficult circumstances, down to providing aircraft
to take some people to the west side of Cape York to try and avoid clouds
and hiring his very own meteorologist who in the final days was providing
forecasts every 4 hours! It was my and my family's first total eclipse and all
I can say is that the hype is if anything understated. We watched it with
Alison Beck and a couple from Canada (19-eclipse veterans) next to a cane
field just north of Mareeba. Al kindly provided the celebratory champagne.

Shortly after the end of totality I found myself talking about how I would do
things differently 'next time' so I may have caught the bug. The next day
Georgie and I hosted a BBQ for AAQ members and friends at the Trinity Beach
Resort where many of us were staying, which was a very pleasant way to wind
down and share experiences.



- Tim Napier-Munn



Stig Linander from Denmark was part of the Port Douglas Site group but moved to Mareeba after receiving our weather report. He writes : -



We were four Danes who had travelled to Australia to experience the total




solar eclipse on the morning of November 14th, 2012 (local time).





Staying in Port Douglas, the logical choice was to observe the eclipse




from or near the coast close to Port Douglas, but according to weather




forecasts there would be a high risk of clouds at the coast, whereas the




situation would be better in the tableland. We ended up on a place about




15km north of Mareeba (16° 51.63' S, 145° 23.958' E.) just east of Lake




Mitchell.





But there were clouds! Lots of clouds! It didn't look promising at all. We




only got brief glimpses of the sun until C2 (start of totality).




During the initial partial phase, the sun occasionally appeared between




the clouds. We were hoping for a miracle.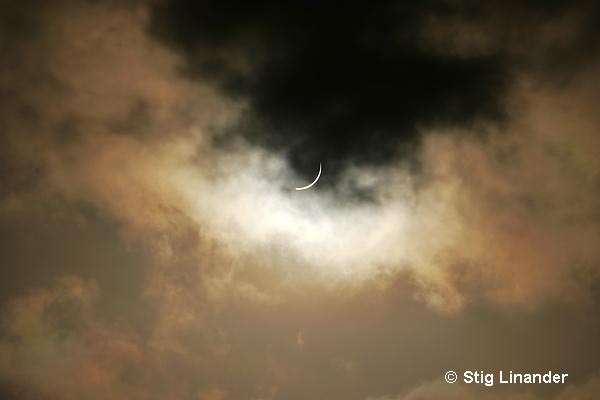 But the miracle happened - one minute before C2 the thin solar crescent
left the clouds. We saw shadow bands - faint however - but soon we had all
our attention directed towards the spectacle in the sky. Now it looked
very promising! We saw the whole totality.



There were fine small prominences, and with binoculars we could study the




corona, which had a beautiful structure like the petals of a flower.



- Stig Linander

Stig's full report and more photos : -
http://www.linander.dk/stig/se2012_e.htm



---
Page 6
of 9
< PREVIOUS
NEXT >
Home Page ..............Index of other eclipse reports
Personal logs
1. Introduction, Preparations and tour structure
2. The final eight weeks before the eclipse
3. Eclipse Week
Observation / Activity Reports
4. Stratospheric Balloon flight
5. Observations from Trinity Beach and Port Douglas
6. Inland Escape - Mareeba - Mt Molloy