The Great Oz Eclipse of November 2012
by Joe Cali

September-October 2012


I tried my best to be well organized, nonetheless communications took up enormous amounts of time. Something like 4000 emails came in or were sent out over the three years. That doesn't include many posts on SEML and Ice in Space. Between September 20th 2012 and the eclipse, I had to write 486 outgoing email messages in reply to 700 messages that came in during this period. My mobile phone was running red hot with calls and SMS.

This wasn't really a surprise given the range of activities I was involved in. One disappointing aspect was that I put a lot of work into a comprehensive set of web pages with all the information I thought people needed. The set of web pages were indexed with titles like Accommodation, Car rental, Reef Cruise etc. A very large proportion of questions that were sent to me were requesting information that was readily available on those web pages.

I took on the role of liaison officer for the team with the Civil Aviation Safety Authority (CASA) and Air Services Australia (ASA) to obtain permission to launch Eclipser 1, a stratospheric balloon during totality.




November 2012


Thursday November 1st - Sunday November 4th


I departed from Canberra late afternoon Thursday only intending to drive 3hrs to Parkes the first night. My second night was spent in Roma and the third in Charters Towers. I did something very stupid that third afternoon. I filled my fuel tank in Rolleston then didn't fill again planning to fill at a small place called Beylando Crossing. Beylando Crossing isn't a town, just a road house off to one side of the road and I drove straight through. Suddenly I realized I was in trouble. I had 200km to go to the next gas at Charters Towers and only 150km of gas in the tank. I re-calculated my fuel consumption by two methods and came up with the same result. Knowing my car, I slowed down from the speed limit to 60km/hr. This decreases my car's fuel consumption from 8 litres/100km to 5 litres / 100km. This increased the range of my car with the remaining fuel to the 200km I needed. It was a slightly risky strategy but I was confident in my calculations. The 200km took 3.5 hrs. There was no traffic so I didn't have a constant stream of cars overtaking me. Only two cars overtook me in the two hours. I reached Charters Towers and put 54.5litres in my car's 56 litre tank.

2800km and three 900km days on the road and I was in Port Douglas on Sunday Nov 4. I did some preparation work on the Port Douglas observing site while staying at Port Douglas for three days.



November 4th-6th


I was talking to any number of service providers regarding the Port Douglas observing site. Kennards Hire (Toilets), Party Hire chairs, Insurance brokers, negotiating with helicopter companies that suddenly wanted to operate 5 choppers off the airfield during the eclipse. I could go on. During these days, I stayed at Port Douglas. I was also receiving numerous inquiries from people about aspects of the tour.



Tuesday Nov 6th


I moved to Cairns and into Marlin Cove Resort, the accommodation base for the tour group. Glenn Schneider also arrived that day and the "gathering" had officially begun.



Thursday November 8th




On Thursday November 8th, I was invited to speak at one of the local high schools, Smithfield High. Their Head Science Teacher, Robert Callin, contacted me early in the year

and arranged it

.

They had a room that held 40 but they had expressions of interest from 80 students and staff. We could not run two sessions due to time constraints so they had to pick the 40 keenest students.
And keen they were. The room was buzzing with enthusiasm. The clipping below is from the school newsletter.



I gave them a brief description of what eclipse chasing was about, the travel opportunities it presents and the opportunities to help in small ways in the communities you visit and people you meet particularly in lesser developed countries. Then I described and illustrated with photographs, many of the more subtle phenomena that they might see that weren't described in educational materials. Finally we undertook a practical where we used ping pong and soccer balls to prove the theory of similar triangles. The students measured the diameters of ping pong balls and soccer balls and the distances from their eye to the points where the ping pong ball just occluded the soccer ball. Their results varied dramatically and I used this to illustrate the principle of error and uncertainty in experimental data. We the applied the principle to the diameters and distances to the Moon and Sun to illustrate why the Moon can sometimes cover the sun so neatly. I went to the airport after the class and collected Bengt.

Friday November 9th
Early in the week, I had an altercation with a small animal. Small as it was it took out my front spoiler, grill and damaged the radiator. With my car in the smash repair shop for the duration, Glenn Schneider kindly offered to drive me inland in his rental car to re-survey potential inland re-location sites. We opted for locations that were reachable in practical driving times and using a sighting scope coupled with an accurate inclinometer we surveyed sites that were "not too good." That is, sites with 9 degree horizons. The idea behind this was that if we relocated, we'd arrive relatively late where we expected that any places with obviously low horizons would be taken. We chose sites with a horizon high enough that it would cast doubt in the mind of anyone selecting a site who didn't have an accurate device for measuring altitude. During the many hours on the road, Bengt Alfredsson rode shotgun in the front passenger seat and I had a mobile office set up in the back seat. Crises that day included overcoming difficulties regarding the launch of our balloon Eclipser1, sorting out the helicopter situation at Port Douglas and hire of chairs for the Port Douglas site.
We were surveying potential inland relocation sites. I'd hired Weatherwatch Australia and had them feeding me comparative evaluations of the weather prospects in each region.
Following the site surveying, I produced and circulated this map for the people taking weather advice through me :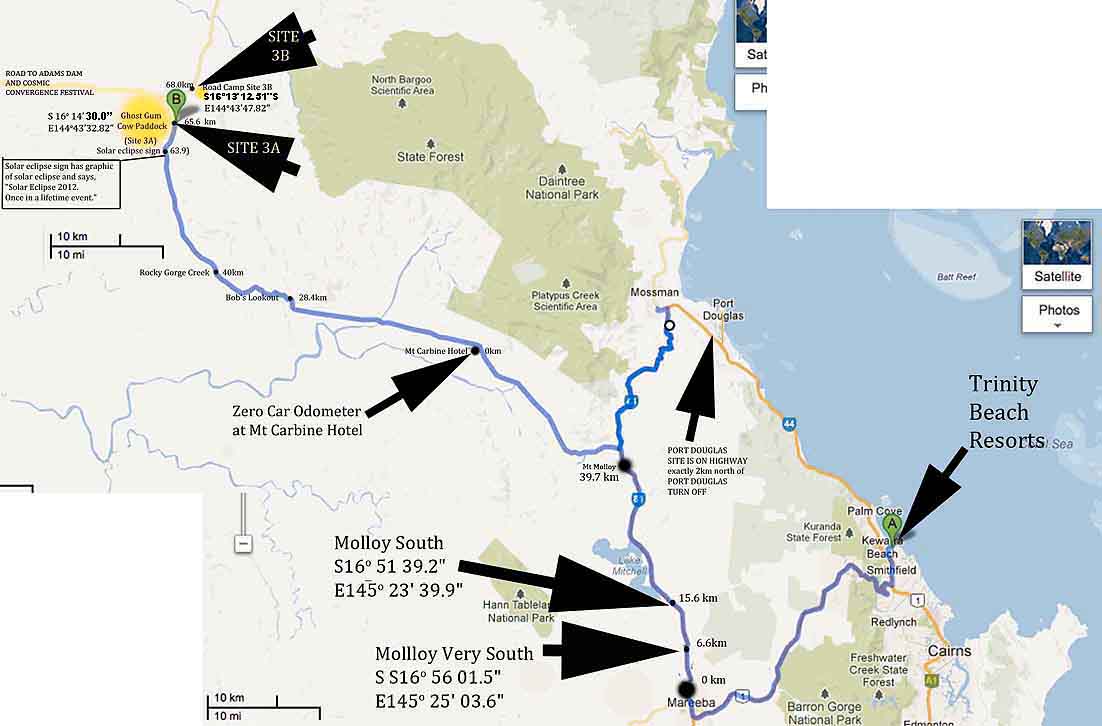 Underlying map: © Google Maps
Meanwhile the correspondence with CASA and ASA was flowing thick and fast. I was burning the midnight oil right through to first light some mornings.


My cousin Anton is a full-time professional artist. During the week, he produced a series of drawings some of which I'll use through this report. A number of people who saw them expressed interested in purchasing these. The brush and ink drawing of the eclipse (top of first page) is available as a limited edition print. Like any artist, Anton re-worked the drawing several times experimenting with different viewpoints and brush techniques. These originals will also also be available for purchase.
Illustration far right : Joe - emailing at GHQ by Anton Pulvirenti
---
Page 2 of 9
<- PREVIOUS
NEXT ->

Home Page ..............Index of other eclipse reports
Personal logs
1. Introduction, Preparations and tour structure
2. The final eight weeks before the eclipse
3. Eclipse Week
Observation / Activity Reports
4. Stratospheric Balloon flight
5. Observations from Trinity Beach and Port Douglas
6. Inland Escape - Mareeba - Mt Molloy